Multiseat Software for MS Windows XP/ 7/ 8/10
ASTER is a program (and only a program!) which allows to create a few workplaces on base of a single PC.
ASTER is a multiseat software for Windows XP/7/8/10. ASTER does not use any thin clients and terminal stations, i.e. ASTER is analog of such multiseat programs, as MS MultiPoint, SoftXpand, Betwin, Userful, etc. ASTER is being successfully used not only for equipping of computer classes, libraries, offices and Internet cafes, but even for games and video!
To create an additional workplace, you just need to connect to system block an additional monitor, keyboard and mouse (and if it is needed – microphone, speaker, joystick or gamepad).
Monitors may be connected by VGA/DVI/HDMI/DP cables. IT is also possible to use external monitors (preferably DisplayLink monitors) via USB or WIFI/LAN connections. After installing and launching, ASTER will provide each users with its own independent desktop.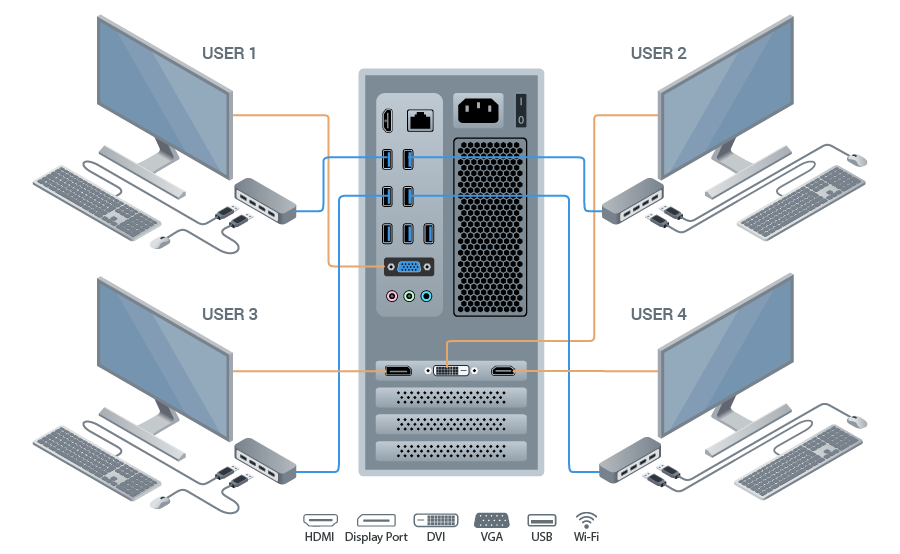 After the installation the ASTER will provide a individual desktop for each monitor and you can use all workplaces independently as if each of them had their own PC.

Benefits of ASTER:
Low noise level
Space is saved
Upgrading costs are cut down
Easy application
Electric power is saved
Local network is not required
Differences as compared to a similar multiseat software:
Unlike a terminal station or a thin client, excellent operation with graphic applications
Low price
Compatibility with most modern video cards
Ideal solution for cost-effective computerization of schools, government bodies and SOHO
Purchase ASTER online
We strongly recommend before purchasing download and test the 30-day trial of the ASTER.